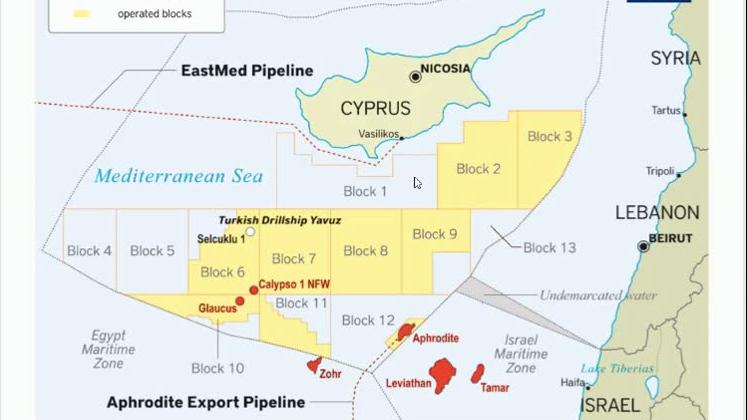 Différends Maritimes en Méditerranée Orientale: Comment en Sortir
Les différends de frontières maritimes en Méditerranée orientale empêchent l'exploitation raisonnée des récentes découvertes énergétiques dans la région :
un nouveau livre montre comment résoudre pacifiquement les conflits frontaliers maritimes.
L'ouvrage se présente comme une feuille de route pour aider les pays côtiers à exploiter les ressources offshore
Un nouveau livre de l'expert en politique de l'énergie Roudi Baroudi met en lumière des mécanismes souvent négligés qui pourraient aider à désamorcer les tensions et débloquer des milliards de dollars en pétrole et en gaz.
"Maritime Disputes in the Eastern Mediterranean: the Way Forward" («Différends Maritimes en Méditerranée Orientale: Comment en Sortir») -distribué par Brookings Institution Press- décrit le vaste cadre juridique et diplomatique dont disposent les pays qui cherchent à résoudre les conflits de frontières maritimes. Dans ce livre, M. Baroudi passe en revue l'émergence et l'influence (croissante) de la Convention des Nations unies sur le droit de la mer (CNUDM), dont les règles et les normes sont devenues la base de pratiquement toutes les négociations et de tous les accords maritimes. Il explique également comment les progrès récents de la science et de la technologie, notamment dans le domaine de la cartographie de précision, ont accru l'impact des lignes directrices de la CNUDM en éliminant les conjectures de tout processus de règlement des différends fondé sur celles-ci.
Comme le titre l'indique, l'ouvrage se concentre en grande partie sur la Méditerranée orientale, où les récentes découvertes de pétrole et de gaz ont souligné le fait que la plupart des frontières maritimes de la région restent discutées. L'incertitude qui en résulte ralentit non seulement l'utilisation des ressources en question (et le réinvestissement des recettes pour lutter contre la pauvreté et d'autres problèmes de société), mais augmente également le risque d'un ou plusieurs conflits meurtriers. M. Baroudi fait toutefois remarquer que, tout comme ces problèmes et leurs conséquences existent dans le monde entier, leur résolution juste et équitable dans une région pourrait contribuer à restaurer la croyance qu'ont les peuples et leurs dirigeants dans le multilatéralisme, et servir ainsi d'exemple.
Si les pays de la Méditerranée orientale acceptaient, en vertu des règles de la CNUDM, de régler leurs différends de manière juste et équitable, écrit-il, "cela donnerait une chance de démontrer que l'architecture de sécurité collective de l'après-guerre reste non seulement une approche viable mais aussi une approche vitale… Cela montrerait au monde entier qu'aucun obstacle n'est trop grand, aucune inimitié si ancrée et aucun souvenir si amer qu'il ne puisse-t-être surmonté en suivant les règles de base auxquelles tous les États membres des Nations unies ont souscrit en y adhérant: la responsabilité de régler les différends sans violence ou menace de violence".
Le livre rappelle, de manière générale et spécifique, qu'il existe des leviers permettant d'uniformiser les règles du jeu diplomatique, une contribution utile à un moment où l'ensemble du concept de multilatéralisme est attaqué par certains des pays qui ont autrefois défendu sa création. L'ouvrage est écrit dans un style engageant, empruntant à plusieurs disciplines -de l'histoire et de la géographie au droit et à la cartographie- le rendant accessible et d'intérêt pour tous, des universitaires et des décideurs politiques aux ingénieurs et au grand public.
En attendant sa parution papier, ainsi que sa traduction en français prévue dans les prochaines semaines, le livre est disponible au format e-book. Dans le contexte actuel qui a forcé les maisons d'édition à adapter leur stratégie de lancement, l'ouvrage a fait l'objet ce jeudi d'un lancement organisé par TLN via zoom, avec la participation autour de l'auteur, de deux représentants éminents du Département d'État américain – Jonathan Moore (premier sous-secrétaire adjoint principal, Bureau des océans et des affaires environnementales et scientifiques internationales) et Kurt Donnelly (sous-secrétaire adjoint pour la diplomatie énergétique, Bureau des ressources énergétiques).