News – Oil and Gas – Berlin, May 2022
Qatar's Emir, His Highness Sheikh Tamim bin Hamad Al Thani, and German Chancellor Olaf Scholz signed a strategic energy partnership on May 20 as Germany scrambles to reduce its dependence on imports of coal and pipelined natural gas from Russia, mainly to punish the latter for its invasion of Ukraine.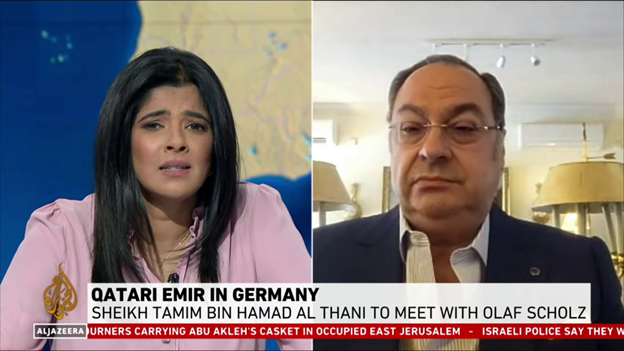 Al Jazeera turned to regional energy expert Roudi Baroudi to provide context and analysis for the summit, which could have historic implications. Baroudi confirmed that the German plan centers on a rapid switchover to seaborne shipments of liquefied natural gas, so the government is building two LNG plants, at Brunsbüttel and Wilhelmshaven, along with the possibility of adding three offshore floating storage and regasification units (FCRUs).
Baroudi estimated that these facilities, including the FSRUs, could account for 20-30% of German's annual gas needs of approximately 85 billion cubic meters.
He also explained that Qatar, which has the world's second largest gas reserves and has led the industry in LNG exports for most of the past two decades, would be a natural secure and reliable fit to supply even more gas to European terminals that it already does. The Gulf state has recently invested in even more LNG capacity, via an expansion of its North Field operations, which will see its output once again surpass those of the United States and Australia as the world's largest producer